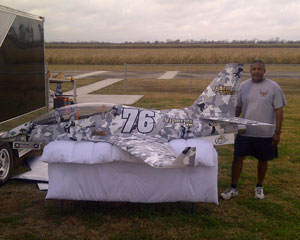 Thursday night, April 24, 2014 is our General Meeting. We invite all CCRCC members and friends to attend, bring some idea's to the table and let's keep things rolling. The meeting will be held at 7:00 at the Library:
St. Charles Parish Library East Regional Branch
160 West Campus Drive,
Destrehan, LA 70047
Remember, everyone the attends the meetings will have their name entered to win a VisionAire BNF with AS3X Technology by ParkZone.
We have a few things on the adgenda, Family wrapup, Memorial Day Planning, and other items.
Come out and support your club.
PS. Marty will be at the Mississippi Afterburners this week flying his new Jet (See Photo). That is if he can find the wing screws.