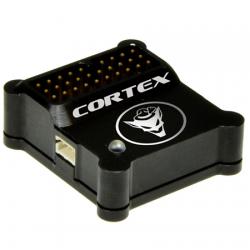 Lately, when flying my AJ Slick, it seemed I was always fighting to keep it level.  After landing we inspected the elevator servos and found one of the servo arms striped.   I replaced both arms and tried it again.  It was better but still hunting up and down.  Ben Leblanc asked if I checked to see if the servos were centering properly.  Nope they were not.  I went to West Bank Hobbies and bought two new Specktrum servos recommend by Matt.  After installing them during the week it was finally Saturday and the anticipation of a relaxed day of flying.  I started it up, taxied out, applied power and Just before the end of the runway I gave it up and….. it went down and flipped on the runway.
Lesson learned; just because you replaced existing servos doesn't mean they move in the same direction, yep they were reversed.  It suffered minor damage to the rudder and a broken prop.  After replacing the prop, a little CA and some covering it was time to try again.
This was better but not great.  I don't know if my confidence in my flying ability is not there anymore or just time to get an easier flying plane.   I was contemplating buying the Aero-Works GT 20 Trainer then I saw the Great Planes Citabria 30cc on the cover of the September edition of Model Airplane News. It is the same price as the GT20 Trainer but with complete interior and wheel pants included.  I am not one to rush into things so I sat on it for a while then realized that I already had two planes with another in still in the box.
It wasn't another plane that I needed it was something to help me fly what I had.  I remember talking to Marty a while back about the Cortex Demon Gyro that he uses in his jets.   A text message was sent to Marty for information about where to purchase one.  Dreamworks Model Products was the reply.  The order was placed on Tuesday and the gyro arrived Friday at noon.
Instructions say it is a snap to install and program. Well after 5 hours it was still not working so I gave up and packed the trailer for flying Saturday.  When I arrived at the field I tried to program the gyro again with no luck.  I wanted to fly so I took it out of the loop and went fly.  Plane flew good but not great.  Not one to give up I hooked up the gyro again. Woo Hoo it was responding like it should. I guess one of the wires was not connected correctly the first time.
Still skeptical I hooked it up on a switch like it suggests so I could turn it on/off.  After going through the setup procedure it was time to test it.  Gyro off, I advanced the throttle and took off.  I made a couple of passes with it off then decided it was time to try it.  A flick of the switch to the normal position and the plane pitched up so I immediately turned it off.  I tried it one more time with the same result, so I landed.
After thinking about it, I went through the set-up procedure with the plane resting on its tail wheel which is a pitch up position for the plane.  Broke out the level and proceeded to level the entire plane as it would be in flight.  With the setup procedure done it was time to test again.  Gyro off, throttle advanced and up again.  A few passes around then gyro on.  All I can say is WOW.
I don't think I have ever had a more relaxing flight.  It was so much fun I almost forgot about the time.  Here comes the landing test, lined up on final, lowered the throttle and she settled on the runway without as much as a wobble, with a slight cross wind.  I am sold on gyros.
Some may say it is cheating but to me, it is fun flying.
If you're thinking about getting one I would be more than happy to help you get it going.
You can view a somewhat helpful video here Cortex Demon video
Marshall