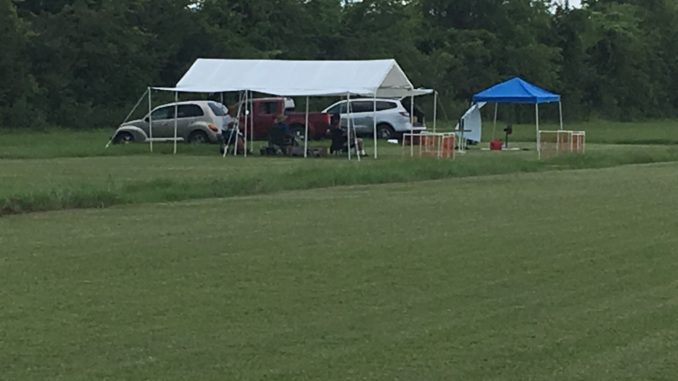 David McCormick, President, Falling Water Radio Control Flying Club, Soddy-Daisy, Tennessee
I recently discovered a great way to mount canopies, cowlings, hatches, virtually anything that requires a mounting screw, to attach it to an airplane. I'd like to share it with the rest of my modeling friends.
As anyone who's ever tried to mount a fiberglass cowling or a plastic canopy on a balsa wood model knows, one of the most difficult things to do is to get the wood hard enough to reliably hold the mounting screws so they won't vibrate out in flight and allow the part to crack or fall off. In the past, the best method has seemed to be to use hardwood or plywood blocks, pre-drill the holes, and then harden them with CA. While that may work for a while, if you have to remove the screws a few times they eventually get loose again and you're right back at square one. Often, the next step is a bigger screw, which adds weight and looks crummy! So here's my solution …
Cut a small piece of plastic antenna tubing slightly longer than the length of the screw. You can use any hard plastic tubing you have (not fuel tubing), just make sure the inside diameter is slightly smaller than the body of the screw. Antenna tubing is a perfect fit for the small allen-head servo mounting screws I like to use.
First, drill a small hole through the part and into the block (or balsa) as you normally would. Next, enlarge the hole to the outside diameter of the tubing. Make sure you're accurate with this hole, as it's important that the tubing fit snugly into the wood before gluing. You should have to tap the tubing into the hole with a small block or tool. If it's loose, drop down a size on your drill bit. You may want to practice on a scrap of wood at first to find the right bit sizes. Now just use thin CA to secure the tubing into the wood, and give it several minutes to dry.
Your screws will bite into the plastic tubing much better than they do into wood, and you can remove and replace them as many times as you need to. The friction of the tubing on the screws' threads will act like "lock-tite," and they won't vibrate out or loosen in flight. I keep several sizes of plastic tubing handy to match the various sizes of screws I use on my airplanes. You can use pan head, socket head, or flat head screws, whatever you prefer, they all work equally well with this method. And it's easy to modify an existing mount to use this method, too.
Good Luck!